Hi everyone! Happy 1st of the month. I hope you are all happily scrapping away somewhere in the world.
Today, being the first of the month we reveal a new challenge! After all the excitement of September with CSI things go back to normal here. Don't forget that September Challenge #4 goes until the 8th of October (
Australian
time), while
this
challenge revealed today is not due till the last day of the month.
Also once again, just reminding you that the winners of the September challenges will be announced soon after the last challenge finishes on the 8th!
So here is a bit of a different challenge for you this month and I am SOOOO excited to show you all the sponsors this month! SO lucky to have such wonderful people wanting to sponsor our challenges which means more chances for you to win too. This month we have some really beautiful things up for grabs :))
Theme: The following quote..
We would like you to create a layout based on this quote. You can interpret it ANY way you like. There is no wrong or right way to interpret this quote
but your layout must incorporate something from this quote AND the sketch below.
Please make sure that we see some sort of journalling on your layouts and please tell us where your journalling is . Hidden journalling is
perfectly
fine.
I am also very
excited to announce this month's Guest Designer. This lady was a very big inspiration for me when I first started scrapping and her style has continued to be timeless. It is with great pleasure I welcome the gorgeous...
My name is Gabrielle Pollacco, I live in Canada. I started scrapbooking about 8 years ago and fell in love with this art form from the very first page I made. I love that this art form is ever changing and find myself constantly inspired by all the wonderful new products that come out each year. I'm married to the love of my life Steve, who has been one of my biggest supporters in all I do. I have 2 daughters aged 9 and 13 and are most often the subjects of my pages....and now we have added our new Labradoodle pup named Zoe to our little family.
I've had the honour to be on a number of wonderful design teams over the years, some of my past design teams being Daisy D's, Zva Creative, and My Creative Scrapbook and am presently on the Bo Bunny, Webster's Pages, Dusty Attic, Scrap365 (UK Magazine) and Color Room Design Team. I've had my work published in Memory Makers Magazine, Creating Keepsakes Magazine, Scrap365 and Scrapbooking & Beyond Magazine as well as a number of online magazines. I worked for a Tradeshow Design company as a project manager before I had my babies and now that I'm a stay at home mom I'm fortunate enough to have a little time to enjoy this amazing hobby. I'm honored to be asked to be Guest this month at OUAS and play along with this talented design team! xo
Visit Gabrielle's blog HERE !
And here is Gabrielle's take on our challenge..
Many thanks Gabrielle for being a Guest Designer for us this month. I am sure you have inspired many!!
** Journaling in Kraft envelope **
We are very fortunate to have a gorgeous Danish manufacturer with us this month. Please welcome..
Riddersholm Design is owned by Connie Riddersholm and was founded in 2010 in Denmark . Connie has a background as a graphic designer and has earlier been into Web design and worked as partly self employed since 2004. It all started w
ith Connie designing digital scrapbooking kits for her selves and later moved onto a few digital prints in 12X12 to see how they looked for real. Connie then had a group of hardcore scrapbookers to look at her designs and asked for their "honest" opinion.
They liked it and believed in it. So she decided to give it a go and invested her spare money into Riddersholm Design! Today Riddersholm Designs sells paper lines in 10 countries and launch their new collections every spring and fall/Christmas
Go HERE to see where you can get Riddersholm Design paper from and visit the blog for lots of inspiration from the Design Team HERE.
Our other equally beautiful sponsor this month is the gorgeous Etsy shop owned by Natasha Naranjo- Aquirre called..
Moments of Tranquility online store grew from the requests of the followers of Natasha Naranjo-Aquirre's Blog. Natasha shows such passion and love for her favorite products in her work that her blog followers often asked if she sold it, or could sell it... and so the online shop was born. Natasha stocks all of her very favorite items, specializing in Donna Salazar Mix'd Media Inx and Spellbinders Dies, Want 2 Scrap Bling, Dusty Attic Chipboard & Blooms and beautiful Pion Design Papers. By specializing in a few select items she can always offer the best service to her customers.
Now here are our permanent sponsors for 2012. For more information please see our sidebar.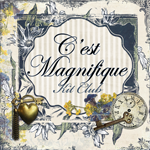 How would you like to be our
Guest Designer
for the month of
December
?
The winner of this challenge with the most points, as voted by the Design Team will be invited to be our Guest Designer i
n December and create along side our Design Team. This person will also win this fabulous prize from Riddersholm Design, who tailored this stunning prize just in time for the holiday season...
The next four winning entries will win the following prizes
A prize package from Moments of Tranquility.
Prize includes:
14 Sheets of Pion Design Paper,
3 Packs of Dusty Attic Blooms,
3 Packs of Dusty Attic Chipboard,
2 Packs of Mix'd Media Inx
A mini kit from C'est Magnifique kit club

+

FREE

postage to anywhere in the world + add any other item in the store at

NO

extra postage cost from C'est Magnifique kit club.
Now here are the 3 prizes that are being offered to our Randomly chosen winners..
**This is an international blog,
so anyone can enter
**You are free to combine Once Upon A..Sketch challenges with other challenges. We don't mind at all!!!
**You are allowed to enter only
layouts
for our challenges
**You are also allowed to flip or rotate the sketch or alter it to suit your needs, but please make sure its still recognisable.
**Post your creation on your blog or an online gallery and link it on the right hand side of this blog using the Link tool. Please provide
a direct link to your post,
not your entire blog.If the link tool is down, please leave a comment on the comments section and link your layout there.
** The deadline for this challenge is
midnight October 31st
,
Australian Eastern Standard Time
.

The Design Team will vote and the Top 5 layouts PLUS Top 5 featured layouts will be announced soon after the challenge has finished.
**You may enter as many times as you like
**
Also, please consider turning off word verification for comments on your blog.
For a complete list of the rules please see the top of this page.