Hi everyone.
As you have seen in the past,
My Scrapbook Nook
has supported our challenge blog by offering generous giveaway's of their monthly kits. I thought it was about time I invited my fellow Design Team members at the Nook to be Guest Designers on our blog and work with our
July 1st Challenge
But before I show you their work, I want to introduce the "Nook" for those that do not know it.
My Scrapbook Nook is an American kit club which began in 2003. Today they have grown into an international
community serving scrapbookers around the world!
Kits usually contain 10-15 sheets of patterned paper, cardstock, an alphabet, small and large embellishments including items like: ribbons and lace, flowers, pearls, buttons, rub ons, journaling aids.
Does it sound like something you might be interested in? I have found the Nook kits to be AMAZING value. A subscription to the kit is just $US29.50! That is a real bargain because they are ALWAYS so well coordinated and packed with amazing stuff to use with the latest releases!Plus you get a little parcel delivered to your door every month..what a thrill that is!
Not just that, no matter what your skill level you will SURELY find inspiration in all the step by step classes by the Design Team that are FREE for everyone to see and use in the forum. The Nook forum is also JUST THE BEST place to get all the gossip in the scrapping world, plus a place to share everyday happening at and meet new people!
My Scrapbook Nook currently has an offer where if you subscribe to the kits for 12 months, you will get your 13 month ABSOLUTELY free. But they have offered as one more giveaway here at Once Upon A..Sketch. If you have been thinking about joining up , now is your chance because ANY NEW subscriptions will go into a draw to win this AMAZING July Kit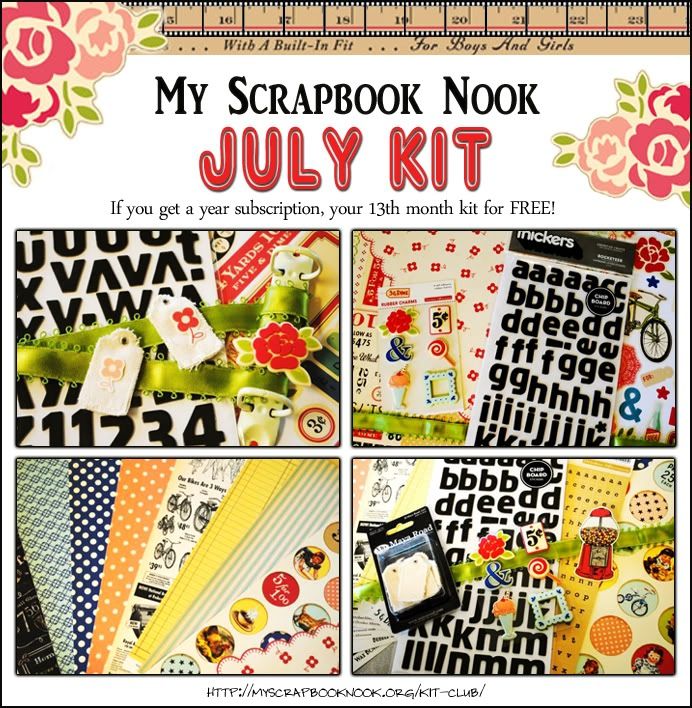 October Afternoon Paper 5 & Dime
American Crafts Picot Trim
October Afternoon Rubber Charms
October Afternoon Mini Market Alphabet
October Afternoon 12×12 Vintage Sticker & Border Sheet
Let me just show you what my fellow Design Team members have created with this kit and some past kits and our current July 1st Challenge ..
JULY 1st CHALLENGE
Journalling Criteria: Who is in the photo? Name the person in the photo and at least 1 fact about them. This can be personality, character, talent , achievement etc. but it must be at least 2 sentences long.
So a warm welcome to My Scrapbook Nook Design Team members..
What amazing work girls! Thank you SO much for showing us your gorgeous creations and being guests at our blog!
So to be in with a chance to win the July kit, you need to send me an email at samnadia@hotmail.com by July 30th, telling me that you have taken up a new subscription to the Nook and I will put your name in a list and do a random draw!You will get the July kit for free, and then your subscription will start in August and you will also get your 13th month free.
I hope you found some more inspiration here today!
Take care!